Results tagged ' Cooperstown '
Many of the ValleyCats interns and front office members took a field trip to Cooperstown yesterday to visit the birthplace of baseball. As lifelong fans, most of us had visited the Baseball Hall of Fame one or two or twenty times before, but that did not make the trip any less special.
We carpooled down I-88, entered the Hall of Fame and started the day in the "Bullpen Theatre." Brad Horn, the Hall's senior director of communications and education, greeted us and briefly introduced the museum's mission. Horn talked about how the minor leagues – especially short-season teams – and the Hall can bookend a player's professional lifetime: all players start their careers in the minors, the best of those reach the majors, and the top 1 percent of that group will be great enough to end up in the Hall of Fame.
He also brought along All-Star Game MVP Prince Fielder's jersey, which he had received from Fielder immediately after the Midsummer Classic two days earlier. A small dirt stain was still visible on the lower back, showing how the jersey was, as Horn said, a representation of that moment in time.
For the past two years (ever since the formerly-Oneonta Tigers moved to Connecticut), the ValleyCats have been the closest minor-league team to Cooperstown, and we have enjoyed a very strong partnership with the Baseball Hall of Fame. We got to meet and mingle with the Hall's interns, who have recently been very busy preparing for next week's induction ceremony, in which Roberto Alomar, Bert Blyleven and Pat Gillick will be enshrined in the Hall.
The Hall's team of interns will come up to Joe Bruno Stadium on July 30 for Hall of Fame Night, a chance to watch some great baseball. They will also show off some historical artifacts with a Capital Region flavor, which we had a chance to see:
A glove and cleats used by Troy native and Hall of Famer Johnny Evers, who was immortalized in one of baseball's two most famous poems, "Baseball's Sad Lexicon."
Derek Jeter's Louisville Slugger-model bat from the 2000 All-Star Game. Jeter would become the only player ever to be named the MVP of the All-Star Game and the World Series in the same year.
Chris Chenes, who has a knack for appearing in our pictures, talks alongside Pedro Martinez's 1999 All-Star Game jersey. Pedro was named the game's MVP for striking out five of the game's best players in two scoreless innings.
Afterward, we were able to explore the museum. We got to see some new exhibits alongside the old standbys, including the most famous area of all, the Hall of Fame itself:
'Cats broadcaster Erik Elken listens to an exhibit featuring some famed radio voices from the past.
Afterwards, we took in the beautiful blocks surrounding the Hall and browsed some of the local shops. One store carried a wealth of Minor League Baseball hats, including a 2010 championship model of the red ValleyCats hat. The shopkeeper was probably surprised to see 13 people enter the store, rush over and excitedly point at it.
If any of our Tri-City followers (or baseball fans from anywhere in the country) have not visited the Hall of Fame, we strongly encourage you to make a trip down to Cooperstown – it's well worth the drive. And come to "The Joe" for Hall of Fame Night on July 30!
Kevin Whitaker
The ValleyCats made a special trip down to Cooperstown today, playing their annual meeting against the Tigers at Doubleday Field. The game coincides with the Hall of Fame Induction Weekend – Andre Dawson, Doug Harvey and Whitey Herzog will be officially inducted tomorrow afternoon – so the town is always full of excitement and energy. Combined with the historic nature of the field and area, it's a great atmosphere for a ballgame.
Things are a little crazier this year, because the Tigers moved to Connecticut in the offseason. When they played in Oneonta, the Cooperstown game was a perfect fit, but this time around the 'Cats have a very rough travel schedule: they finished a game at Aberdeen on Thursday night; drove nearly six hours up to Norwich, CT on Friday for a game that was postponed due to rain; spent four hours on the bus to get to Cooperstown for the 1:00 start today; and embarked on a 4.5-hour trip after the game to Vermont, where they will play at 1:05 tomorrow (Sunday).
But despite the crazy schedule, the players seemed pretty excited to play on Doubleday Field. They certainly got their money's worth, playing a 13-inning marathon (longest of the season) that lasted three hours and 36 minutes and forced me to use a second scoresheet for the first time this season (mine go to 11). I was kind of wishing the game had taken place at home, just to see the kind of chaos that would have exploded on the whiteboard. 17 ValleyCats and 18 Tigers appeared in the game, including three pinch-runners, two pinch-hitters and eleven pitchers.
Each team had quite a few chances to put the game away – eleven different runners reached scoring position in the ninth and extras – so there were quite a few interesting tactical decisions made in the late innings. Here are some of the ones worth pointing out:
Look into the box score, and you'll see an unusual move in the top of the ninth inning – the ValleyCats pinch-hit for their DH with their backup catcher. That doesn't happen often. Now, nobody will argue it was the wrong decision – it regained the platoon advantage with lefty Logan Hoch on the mound, and Stanley isn't exactly killing the ball regardless – and the results backed that up, as Afenir came through with the biggest hit of the day, a line-drive double to right-center that plated Dan Adamson.
On the very next batter, Connecticut made a decision that I think more teams in this league should copy. Jacke Healey pinch-ran for Afenir, and the 'Cats were pretty clearly going to bunt – Wilton Infante, one of their best bunters, was batting, and the go-ahead run was on second. Connecticut aggressively blitzed Infante on the pitch, so that when Infante laid the bunt down, the first baseman was no more than 30 feet from the plate. It worked, as Infante bunted the ball right back to the pitcher, who had plenty of time to nail Healey at third. It was a poor bunt by Infante, but given how Connecticut played it, he would have needed to execute a very good bunt down the third-base line to successfully advance the runner. Most teams I've seen will play more conservatively in that situation, conceding the runner's advancement while getting the batter out. I'm not a fan of playing exclusively for one run in that situation to begin with, but if teams are going to predictably bunt in those situations, it's possible to exploit it and get the lead runner out more often.
In the bottom of the ninth inning, lefty Chao-Ting Tang came up with one on and one out against southpaw Travis Blankenship, and I thought for sure a pinch-hitter was coming, but Connecticut left him in. Tang hit a line drive, but it became a 6-3 double play when pinch-runner Matt Mansilla strayed too farr off first. (That was a perplexing play in its own right – Tang's ball wasn't hit all that hard, and it was obvious to everyone in the ballpark except Mansilla that it would be caught.) There are plenty of reasons to let Tang hit in that situation, so I didn't think much of it until the 13th inning. Tang came up again in that frame with one on and one out against a lefty (Adam Champion)…but this time, the Tigers pinch-hit with righty Chris Sedon. That didn't work out for them either, as Sedon struck out, setting the stage for Ryan Soares's game-winning single. But I'm not sure what happened between the ninth and 13th innings to make pinch-hitting suddenly seem like a good idea (especially because, if I were to pick one to have a bigger expected platoon split, I'd definitely go with Blankenship over Champion as being relatively tougher on lefties).
'Cats manager Jim Pankovits did a great job of managing his bullpen in extra innings. Blankenship was deep into his second inning of work when he got Josh Ashenbrenner to ground into a fielder's choice for the second out. That put runners on first and third with righty Alex Nunez coming up – the Tigers' cleanup hitter, who had two hits already in the game – and I thought for sure Blankenship would come out of the game for a righty. Blankenship has done well against right-handed hitters so far this year, but I'm not sure that's sustainable – he comes from a low arm slot and throws a lot of breaking balls, two qualities that tend to make a pitcher vulnerable to opposite-handed batters. But Pankovits stuck with Blankenship, and it worked out in the end. He got Nunez down 1-2, then hit him with a breaking ball – which was better than leaving one out over the plate, given the situation. Then he induced an easy ground ball from the next batter, lefty Eric Roof, getting out of the jam.
Pankovits made another interesting decision in the 12th. With one out and PJ Polk on third, he had Brandt Walker intentionally walk Josh Ashenbrenner to pitch to Nunez. The reasoning for this wasn't very obvious at the time – it seemed a sideways move at best, one that wasn't necessarily detrimental but somewhat pointless. The ValleyCats weren't setting up a double play – they kept the infield in after the walk – nor were they loading the bases to set up a force at home. I didn't have stats with me at the time, but I checked and sure enough, the rationale became pretty obvious. With one out and a fast runner on third, Tri-City pretty much needed a strikeout to stay in the game (or an infield popup or a hard, at-'em grounder, but those are less common and less predictable). Ashenbrenner has only four strikeouts in 93 at-bats this year, while Nunez has fanned 34 times in 118. Sure enough, Walker sent Nunez down swinging, and got Roof to line out to escape a seemingly impossible bind.
The one decision that didn't pan out came in the 13th, when Pankovits elected to bring in Jorge De Leon with two outs to face Soares, who drilled the first pitch for a game-winning single. But you certainly can't second-guess Pankovits for this one – he got his closer into the game against a hot hitter in a critical situation. (If anything, I would have brought De Leon in to face Sedon once the pinch-hitter was announced, but Champion handled him just fine.) It didn't work out this time, but the managing instinct was the right one – have your better relievers pitch in the most important situations. If Jerry Manuel does that today, the Mets might not lose again.*
*The Mets have played 52 games on the road this season, and have 12 walk-off defeats. That's completely insane. Yet, Manuel was content to watch another celebration today without ever getting his best reliever in to the game.
Soares, of course, lined a single into center, and pinch-runner Les Smith scored from second to win the game. Adamson's throw home was on target, but his arm isn't the strongest, and it bounced home a step too late to catch Smith at the plate.
Tyler Burnett continues to absolutely rake – he went 3-for-5 with a walk and a 12th-inning double today. Burnett also scored a pair of runs; he is now tied for second in the league in doubles and tied for third in walks.
The 'Cats as a team stroked five doubles today. Wilton Infante nearly had a sixth, but Polk made a fantastic leaping catch up against the wall in right-center-field. Nobody went yard, which came as a bit of a surprise given the friiendly confines (296 down the left-field line, 338 to the marking in left-center, 316 to right); besides Infante, Adam Bailey came closest to a homer, hitting a fly to the warning track to straightaway center, easily the deepest part of the park at 390 ft.
Mike Kvasnicka had another pretty good night with the bat, 2-for-6 with a double. After a rough first month of the season, his batting average is now up to .200, and I bet he's at least a .270 hitter from this point forward, if not better.
Walker had two nice strikeouts in the eleventh inning as well, throwing a nice breaking ball to Julio Rodriguez for the first out and then getting Soares to chase a pitch in the dirt with the winning run on second.
Andrew Robinson pitched really well, but was bitten by some very rough luck. He gave up three hits in three innings, but they came back-to-back-to-back, leading to two runs. Even worse, none of the balls was hit well – a chopper that hung in the air too long, a high bloop down the right-field line and a soft grounder up the middle.
David Martinez, on the other hand, was a bit lucky to even get through the first three innings with only three runs allowed (six hits). He was putting pitches over the plate, and Connecticut was taking advantage – in the first two frames, Martinez faced 10 hitters and threw only 17 pitches. Martinez settled down, though, and retired the last eight batters he faced.
Ben Heath had been mired in a bit of a slump – 3 for his previous 23 entering today's game – so it was nice to see him come up with a big hit in the third inning. His double brought home Kik&eacute Hernandez and enabled the three-run outburst that tied the game.
Some pictures from today's memorable game:
Pankovits hits some grounders during warm-ups:
Hitting coach Joel Chimelis talks to Kik&eacute and Kvasnicka before the game:
Ben Orloff signs an autograph for a lucky fan: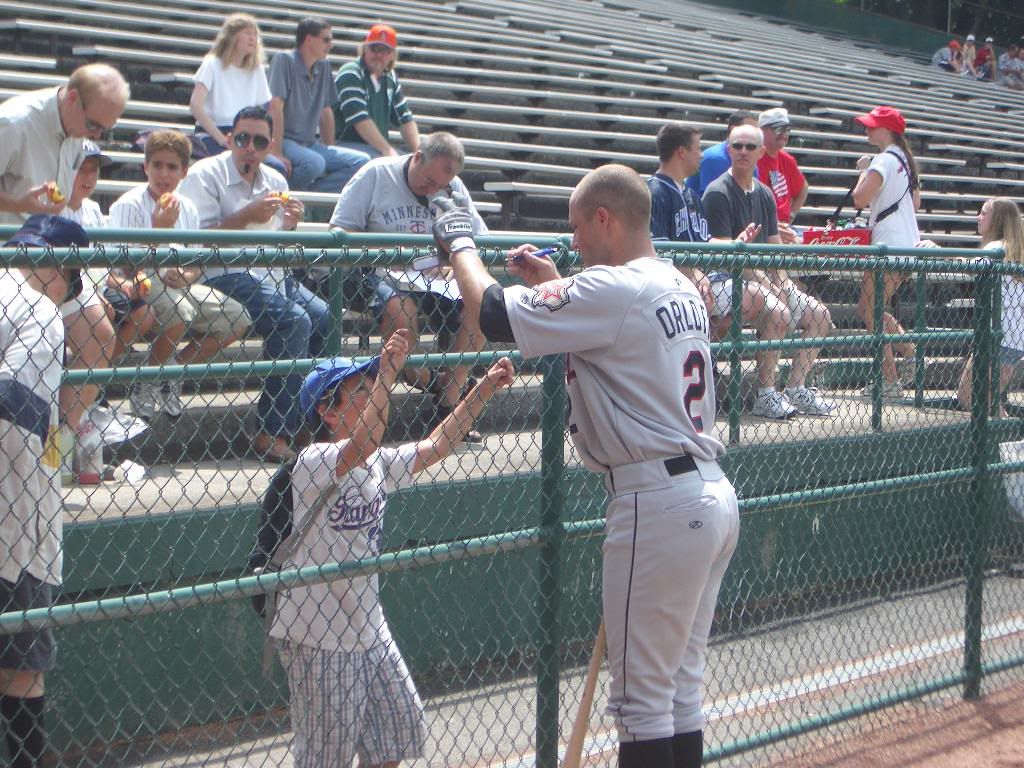 Things got kind of cramped in the small dugouts: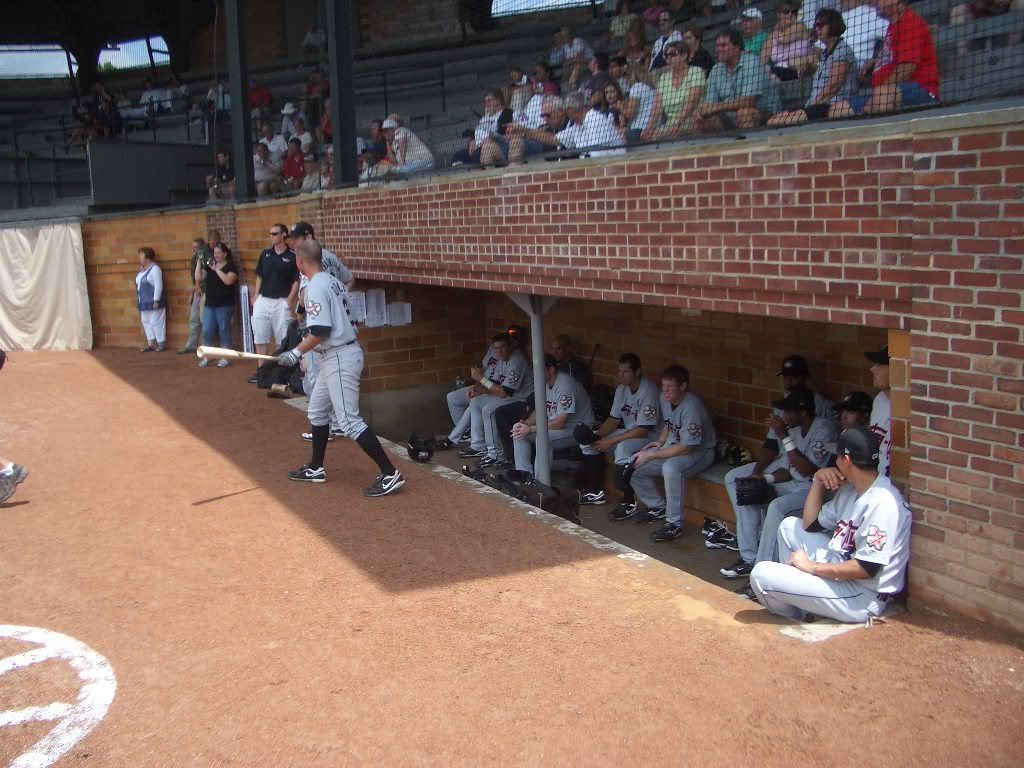 Connecticut came up with an interesting solution: put players in the stands!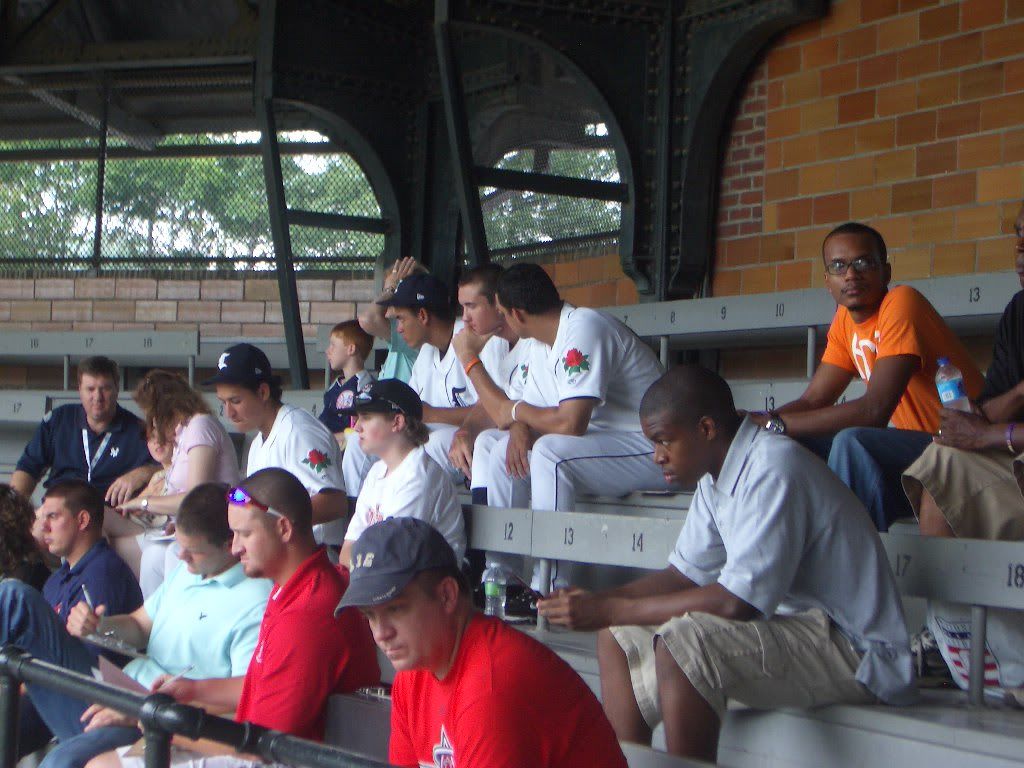 Kvasnicka at bat: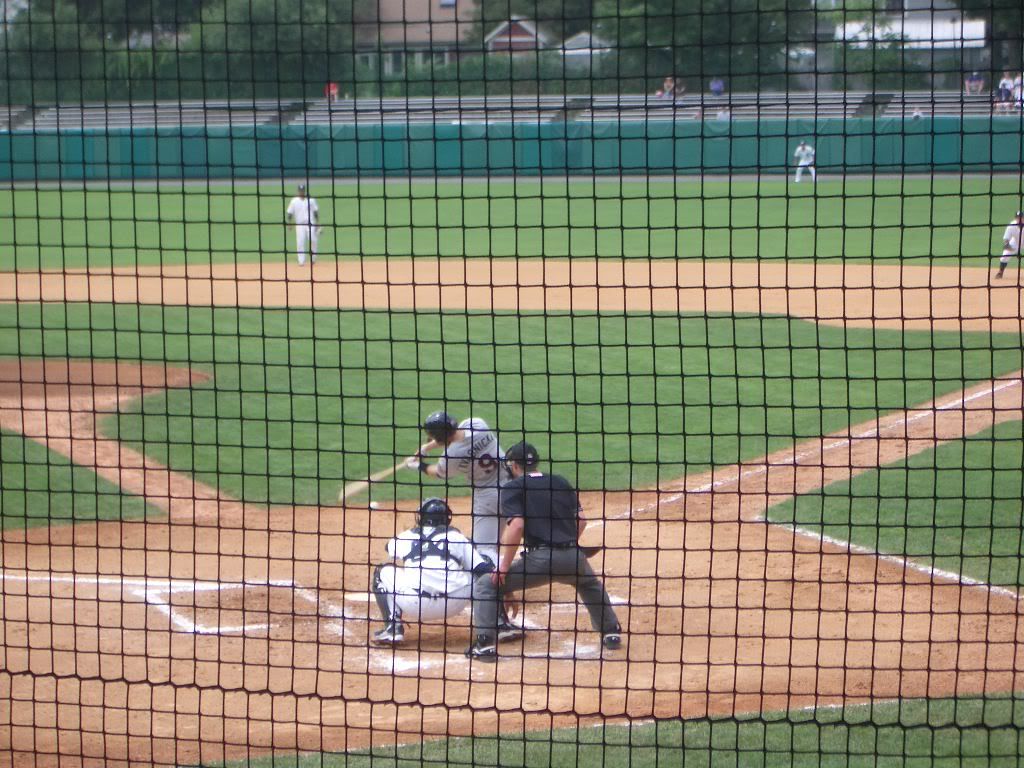 Buck Afenir is congratulated after his game-tying double: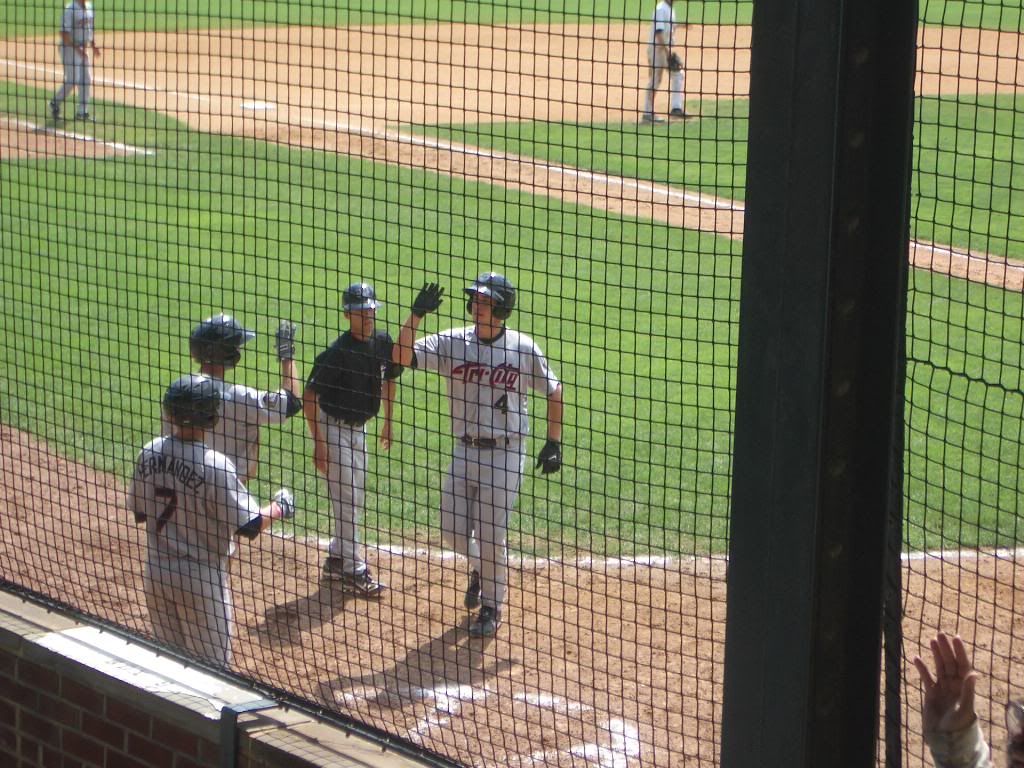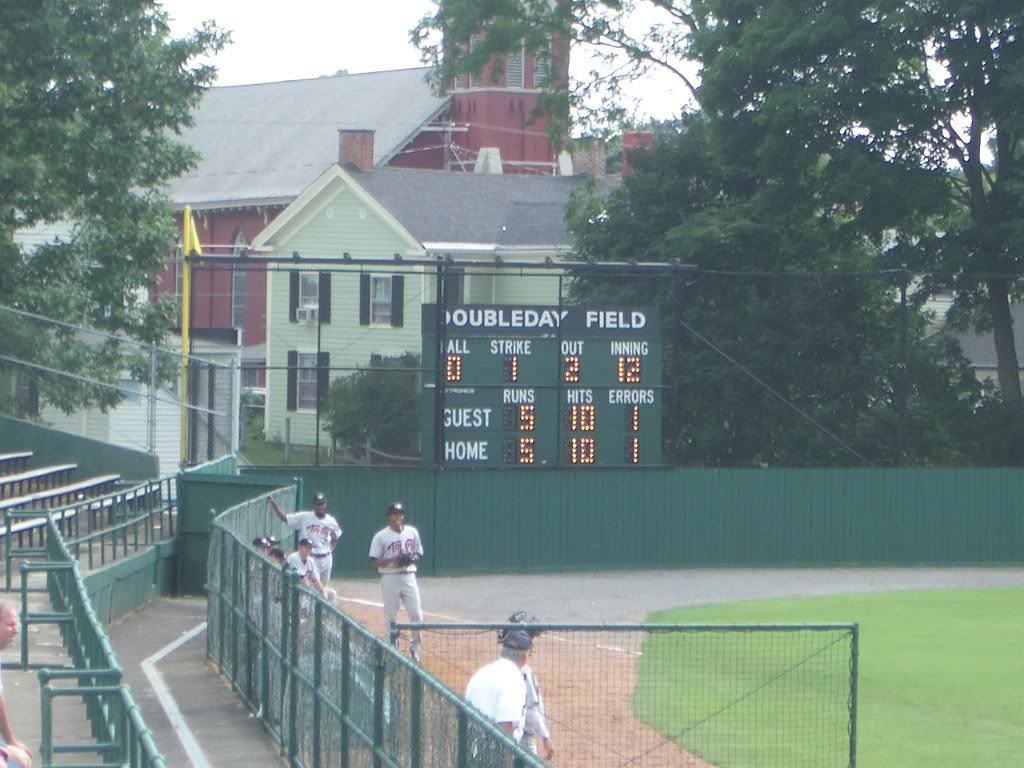 The Tigers celebrate the walk-off victory: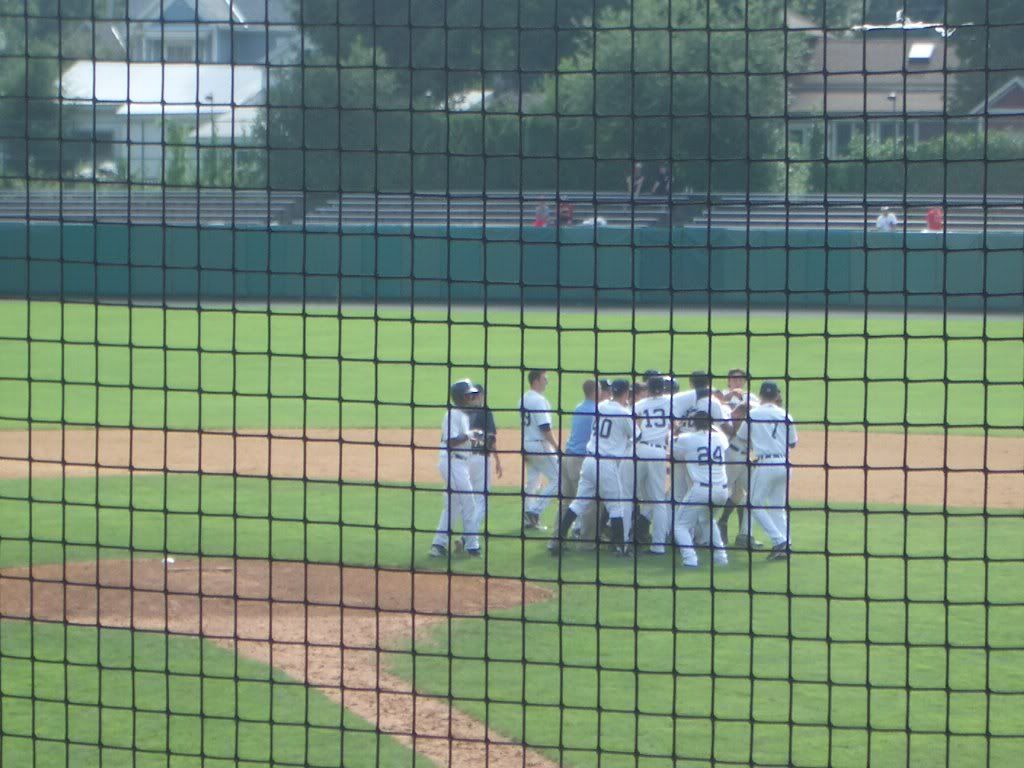 Kevin Whitaker

Posted on July 25, 2010 at 1:31 am

Filed in:

Dailies