Stedler Division Race
The ValleyCats shut out Connecticut last night, 6-0, as Vermont fell 4-3 to Lowell. The ValleyCats are now just 1.5 games out of a playoff spot.
I'll say that again: The ValleyCats are just 1.5 games out of a playoff spot.
Back in July, Vermont's lead over Tri-City was flirting with double digits, and it seemed impossible that the 'Cats would have an interesting home stretch – most (especially I) thought they would settle for avoiding the basement for the first time since 2006, thanks to Lowell. Well, it now looks like this year's 'Cats might fully copy that 2006 team, which won the Stedler Division and made the playoffs.
Vermont's nosedive in the standings certainly helped. The Lake Monsters have won just eight of their last 27 games, despite playing nine games against last-place teams and only five against teams currently above .500. Vermont, which hasn't won consecutive games in four weeks, will need to right the ship as soon as possible if it wants to maintain its season-long hold on the division lead.
But it's not as if the ValleyCats have just stood around while other teams fell. Instead, they've been playing extremely well over the past three weeks. Since losing a 13-inning thriller at Connecticut in Cooperstown, the 'Cats have gone 15-8, including sweeps of Vermont and four of six in their most recent homestand. Only Jamestown has a better record than the 'Cats this month.
And it's not as if this is a fluky streak. The ValleyCats are near the middle of the pack in the NYPL record-wise, but after their recent hot stretch, they have the fourth-best run differential in the NYPL. Run differential is a better indicator of true talent, and a better predictor of future performance, than record. So, though it may be hard to believe, the ValleyCats have played like a playoff team in 2010. They have had an average offense but have allowed only 239 runs, fourth-best in the league despite playing in a hitters' park.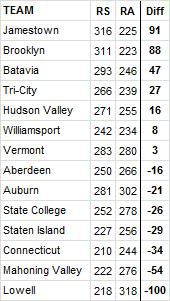 Based on their runs scored and allowed, we would expect the ValleyCats to have a .553 record this season. But they're still a game below .500 and 1.5 out in the division race, thanks to some poor luck in one-run games: Tri-City is 5-10 in such contests, worst in the league. (The 'Cats also are further below .500 in extra innings than anyone else at 2-6.)
So the 'Cats still have some ground to make up in the division. Fortunately, neither of the teams they are chasing is playing very well. Vermont has been outscored by 16 runs this month, bringing its season run differential down near zero despite an amazing start, and certainly looks headed in the wrong direction. And Connecticut is on the opposite end of the spectrum from the Tri-City: it has a run differential of -34, better than only two other teams in the league, with a record bolstered by a 14-8 performance in one-run games. The main culprit for the Tigers has been a futile offense, which ranks last in runs scored.
A total of six head-to-head games remain within these teams: the 'Cats have three left with Connecticut (two away), while the Tigers play three at Vermont. The Lake Monsters and Tri-City each have three remaining with Lowell, while Connecticut is done with the Spinners.
But for the most part, it looks like the McNamara Division will help settle this race. Vermont is least fortunate schedule-wise, with six games remaining against Brooklyn, but the others also have three games against the league's top team. Tri-City has to play in Brooklyn, where the Cyclones have been much better this season (22-6 home, 16-14 road), but they also are the last three games of the season, so Brooklyn could rest some players and have less motivation, as it all but wrapped up a playoff spot a long time ago.
Of their other nine games against McNamara teams, the ValleyCats play six against Hudson Valley, which looks like the next-best in the division. But six of the nine (including three with Aberdeen) are at home. Connecticut is a little bit more fortunate, with six against Aberdeen and three home with Staten Island, while Vermont also plays three-game sets with Aberdeen and Staten Island but travels for both.
All things considered, the ValleyCats and Connecticut face a remarkably similar strength of schedule, while Vermont's is noticeably more difficult (including nine straight on the road to finish the season). Given that the ValleyCats now look like the most talented team in the division, this should be a very interesting race. (See my playoff odds for more.)
Tri-City may also be picking up some help down the stretch: third-round draft pick Austin Wates signed on Monday and will join the ValleyCats tomorrow. College players can often struggle with the transition to pro ball – as those of us who saw Mike Kvasnicka's first month in Troy know – but Wates has the potential to help this team. He was a terrific hitter in college and had one of the best bats in the entire draft, drawing raves from scouts and evaluators. His long-term position is an open question – second base seems most likely – but for the rest of this season he'll probably be an outfielder, and he slots into left field nicely for the ValleyCats. (Update: see Evan's profile of Wates.)
Kevin Whitaker
Posted on August 19, 2010 at 1:38 pm

Filed in:

Dailies