All-Star Thoughts
Note: all stats and records are as of before Sunday's games.
Congrats to Tyler Burnett and Ben Orloff on being named New-York Penn League All-Stars! They will represent the ValleyCats at the All-Star Game in Staten Island next week. Burnett has been an offensive force, leading the ValleyCats with a .399 on-base percentage and reaching safely in each of his last 33 games. Orloff tops the 'Cats with a .312 batting average and has spent significant time at three positions, making the team as a second baseman.
Evan and I were trying to predict who would be All-Stars last week, and we had a tough time paring down the field – there are a lot of ValleyCats with a good case to make the team. Some of the players that didn't make the cut:
Carlos Quevedo should have made the All-Star team. The righty has walked only three batters in 56.2 innings – roughly half the rate of the next-best starter – and has 35 strikeouts to go along with it, for an insane 12.7 K/BB ratio. Quevedo has the fifth-best WHIP in the league at 0.99 and has thrown more innings than all but two other pitchers. He tossed six consecutive quality starts early in the year and has allowed more than two earned runs exactly once. He has a solid 3.34 ERA despite being a flyball pitcher in an extreme home run park. If that's not an All-Star, I don't know what is. (I think the All-Stars were selected before Quevedo's most recent masterpiece – a two-run, 7.2-IP outing against Mahoning Valley – but he had a strong case regardless.)
So, why didn't Quevedo get the call? The NYPL fell into the same trap that the big leagues do every year – it selected too many relievers. Of the 10 pitchers on the National League squad, only four are starters. In a league where almost all of the most talented pitchers are starters – even those who will end up in the bullpen at higher levels – this is absolutely ridiculous, and becomes even more so when you factor in the short nature of the season. Over six weeks and just 15-20 innings, you're almost guaranteed to have several relievers end up with great statistics based on randomness alone. I know that all but one pitcher comes out of the bullpen in the actual All-Star game, but this game doesn't count for anything – it is supposed to reward the best players and showcase the best talent. Having only four starting pitchers does neither. With only ten pitchers, there's absolutely no reason to have more than three relievers on a team, four tops.
Since the All-Star selectors were so infatuated with relievers, one has to think that a couple members of Tri-City's potent bullpen got strong consideration. In particular, Travis Blankenship and Jorge De Leon have been among the best relievers in the league this year; each has an ERA hovering around 0.50 with only one earned run. Now, ERA is not the best way to measure relievers – part of one's job is to stop inherited runners from scoring, which does not show up in ERA – and each is partially responsible for a couple of unearned runs. Blankenship has a slightly better ERA but has struggled with command (13 K, 12 BB in 18.1 IP); De Leon has the "closer" label and four saves, plus the more impressive and entertaining stuff. All things considered, I'm not sure either rates as one of the top five relievers in the league, but they're certainly worth a look.
Dan Adamson leads the team with a .839 OPS and also could have been an All-Star selection. He has blazing speed and great range in center, making him a defensive asset. He's a four-tool player, and the one he lacks is the least important one – a throwing arm – who has hit four homers and 13 other extra-base hits this season. Adamson strikes out a lot but he squares balls up very well when he does make contact, and his .382 on-base percentage is very good. Adamson was unfortunate to be squeezed out by a plethora of great NL-affiliated center fielders, including (unofficial) midseason MVP Darrell Ceciliani and talented slugger Nick Longmire; sluggers Marcell Ozuna and Cory Vaughn, who are tied for the league lead with 12 homers, clearly earned spots. You could make a case that Adamson deserved the nod over Miguel Alvarez or possibly even Adalberto Santos, but it's a close call either way and neither of their teams has many representatives either.
David Coleman had a nice profile of Adamson over at The Crawfish Boxes.
You could also make a case for Ben Heath as an All-Star – not too many catchers also lead their team in home runs, but Heath is two clear of Tri-City with six. His .248 average is not pretty but he's patient, with 20 walks in 150 PA, which combined with his power makes him very valuable. Heath also fell victim to a strong class of peers. David Freitas is Ceciliani's closest MVP candidate – and you could make an argument for him as more valuable, given his positional value – while Audry Perez is getting a hit every three at-bats as a backstop. Had three catchers been named, Heath of Williamsport's Jeff Lanning would have been the final choice. (As it turned out, Heath would not have attended anyways – he was promoted to Lexington on Saturday. We wish him luck in the Sally League and wherever else he may go.)
The youngest ValleyCat, 18-year-old Kik&eacute Hernandez, also had an All-Star case; Houston named him Tri-City's Offensive Player of the Month for July (not sure how that didn't go to Burnett, who hit for the same average with more power and walks, but still). Hernandez is a good second baseman and certainly has more pop than Orloff, who was selected as a second baseman; Hernandez has yet to go deep, but has 12 doubles and a triple to his credit. The All-Star selectors apparently preferred Orloff's better average and on-base skills and defensive versatility over Hernandez's power advantage.
All things considered, the National League affiliates are much more talented than the American League teams this year – NL affiliates are 194-145 in 2010 – which also hurt the case of some ValleyCats. The NL should be a fairly strong favorite in next week's game.
===
Around the league: Vermont is in a major tailspin right now, one that contined with an 8-1 loss at Batavia on Saturday night. The Lake Monsters have won just three of their last 14 games and don't seem on their way to turning things around. They're still in first place in the Stedler Division, a half-game ahead of Connecticut, primarily on the strength of a 14-3 start and a soft midseason schedule. Since July 16, Vermont is 6-15 despite playing half its games against last-place teams (4x Lowell, 3x Auburn, 3x Staten Island) and another five against teams below .500 (Tri-City and Aberdeen).
Vermont won't be as fortunate from here on out. Including last night's game, the Lake Monsters head into the All-Star break with nine games against teams above .500 – Batavia, Jamestown and Hudson valley – six of which are on the road. After the All-Star Game, they have to play six games against the league's best team, Brooklyn, and all six agaisnt Staten Island and Aberdeen are away. Four games with Lowell are the only solace; they also play three at home against Connecticut, which will be critical if they have any hope of turning things around to reach the playoffs.
That's very good news for the Tigers, who have pretty consistently playing .500ish ball this season. Connecticut also has five more left with Brooklyn after last night's extra-inning loss and travels to Jamestown later this week, but otherwise has an easier slate. It's done with Hudson Valley; nine remain with Staten Island and Aberdeen, but six are at home. No more games remain against Lowell, whom the Tigers have swept twice; but they still have a home series with Pinckney bottom-feeder Auburn and four with the 21-27 'Cats. Connecicut is a half-game back right now and boasts a run differential 23 runs worse than Vermont's, but given the remaining schedules and Vermont's recent slide the Tigers have to be the Stedler Division favorites at this point.
Vermont's collapse is also good news for the ValleyCats, but with a caveat. The 'Cats certainly weren't going to catch a Vermont team that was well above .500, so the Lake Monsters' slide keeps their hopes alive. Tri-City has a better shot at catching Connecticut at the top of the division – the ValleyCats still have four games remaining with the Tigers and actually have a significantly better run differential this season despite being 4.5 games back. Their schedule is no picnic, but not terrible either; six against Hudson Valley and three with Williamsport will be tough, but they have three games remaining at Lowell and home against Staten Island and Aberdeen. Tri-City closes with three at Brooklyn, which appears brutal – the Cyclones are 21-4 at home this season – but Brooklyn may be looking ahead to the playoffs by that point, which might allow the 'Cats to sneak out a game or two.
However, Vermont's slide also affects the 'Cats in some less-positive ways. Tri-City has no games remaining with the suddenly vulnerable Lake Monsters, and now seems unfortunate for drawing five games with the then-juggernaut in June. More importantly, once we realize that Vermont has been one of the worst teams in the league over the past three weeks, the ValleyCats' recent performance just does not look all that impressive. Take away the Vermont sweeps and Tri-City is just 5-9 in its most recent games despite an easy schedule. The 'Cats went 1-3 at Connecticut, 1-2 at Aberdeen, 2-1 home against Lowell (needing extra innings to avoid handing the Spinners their first series win of the year) and 1-3 on the current trip at Mahoning Valley and State College. Every single one of those teams has been outscored this season.
The ValleyCats have an opportunity here to make a run at the Stedler Division title, but they'll have to play better than they have recently to make things interesting.
Believe it or not, the 'Cats are now in the top half of the league in run differential, ahead of seven other teams. Only three have a worse record than the ValleyCats, suggesting some poor luck in Troy. (Through games of 8/7)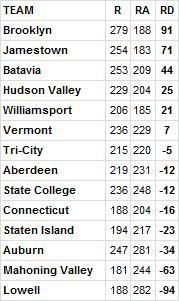 Kevin Whitaker
Posted on August 8, 2010 at 10:22 pm

Filed in:

Dailies