ValleyCats: Unluckiest team in NYPL
The 'Cats got a big win tonight, thrashing Auburn 11-2 to snap a three-game skid. Tyler Burnett had a monster night, going 3-for-3 with a homer, a double and two walks; his 19 bases on balls rank second in the New York-Penn League. Ben Heath added a homer and a double, while Mike Kvasnicka notched his first extra-base hit since Opening Day. Tri-City pounded out 15 hits and didn't commit an error while turning three double plays. Carlos Quevedo posted his fifth consecutive quality start, allowing two runs in six innings for his second victory of the season.
The 11 runs marked a season high for the ValleyCats this season. They also set another milestone you may not have noticed: with the blowout victory, the 'Cats have now scored more runs on the season (112) than they have allowed (111).
That's right, Tri-City has outscored its opponents this year. You would not expect that from the standings, however: the 'Cats stand at 10-15 (.400), ahead of only two other teams in the NYPL.
It has generally been accepted in baseball (and in most other sports) that run (or point) differential is a better indicator of a team's true ability than winning percentage. This is because the binary of "win" vs "loss" tells us relatively little about how well a team played in a given game. Run differential helps us get a better picture – a team that wins by 9 runs generally had a better performance than a team that won by one run. Over a larger sample, wins and losses cumulatively give us a pretty good picture of a team's talent, but run differential will usually tell a more complete story.
Run differential and winning percentage often agree, but there are times when they don't, such as for the ValleyCats this season. Based on run differential, we would expect Tri-City to be about .500; instead, they're .400. Generally, difference between expected and actual winning percentage is chalked up to the vague term "luck".
There is one factor, unique to baseball, that often explains the difference between expected and actual winning percentage: bullpen performance. If a team's bullpen is lousy, it might lose more than its share of close games, which would hurt its winning percentage more than its run differential. However, it is easy to see that this theory does not fit the ValleyCats this year. The Tri-City bullpen has been far from weak; it has been outstanding, with a 2.68 ERA. I can't find any sortable stats for bullpens around the NYPL, but the league-average ERA is 3.92, and the best pitching staff (Vermont) is at 2.75. Even after allowing for the fact that relievers generally have a lower ERA than starters, the 'Cats have still had an excellent bullpen.
So, if anything, we would expect the ValleyCats to be overperforming their run differential, instead of playing well below it. Without any other likely explanation, I have to conclude that the 'Cats have simply suffered some bad luck, and they're more likely to play like a .500 team than a .400 team going forward.
Looking at run differential, there are a few clear-cut tiers in the NYPL: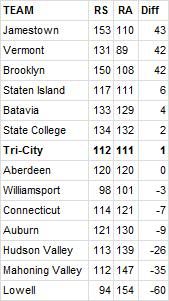 Jamestown, Brooklyn and Vermont sure seem to have separated themselves from the pack. Vermont has already all but clinched the Stedler Division, while the other two currently lead by small margins and should be expected to pull away. But the race for the fourth-best team is a real mess; according to run differential, 15-11 Williamsport is no better than 10-15 Tri-City. There are eight teams who are a good or bad game away from a zero run differential, which is awfully rare. Then the two Valley teams are a clear cut below, with Lowell unsurprisingly bringing up the rear.
Sabermetric pioneer Bill James devised a method of predicting winning percentage from run differential called the Pythagorean Expectation. The equation, which has held up well over the two or three decades since its inception, is fairly simple:
Expected WP% = RS-squared / (RS-squared + RA-squared)
A team who has allowed as many runs as it has scored would be expected to have a winning percentage of .500, and the results are similarly intuitive for other inputs (basically, the marginal value of each extra run has less and less effect on winning percentage).
So, compared to their Pythagorean expectation, which teams have been the luckiest and unluckiest? You won't be surprised by the bottom team (positive = lucky; negative = unlucky).
According to run differential, Tri-City is basically as talented as any other team in the league, save the top three. The ValleyCats' playoff hopes look awfully slim, despite this good news – their recent bad fortune has left them 4.5 games back and behind seven other teams in the wild-card race, which is a very difficult hurdle to overcome under any circumstances. But if their run-scoring and run-allowing rates stay roughly the same, the ValleyCats seem likely to win a bit more frequently than they have thus far.
Kevin Whitaker